Smart light switches are no longer the future, they are for the here and now. From smart dimmer switches to smart on/off switches, we offers you the various smart light switches. Smart switches are great for use as energy-saving solutions giving you wireless remote control of your lights from the home or office, or anywhere via a smartphone. Add voice control by connecting your smart switch with Amazon Alexa and/or Google Assistant - you can even connect a smart dimmer or smart on/off switch to your security system for additional peace of mind.
---
I would like to introduce our company as Wasoto Tech, is manufacturer specialized in R&D and producing Iot & smart home products. Our major products are tuya smart sensor, IR remote control, wifi ZigBee smart switch, smart IP camera, led light strip and so on. And currently our main markets are as follows:
---
European market such as France, UK, Germany, Spain, Belgium, Italy and so on;
Southeast Asia market such as Japan, Singapore, Philippine, Korea and so on;
America market such as the USA, Canada, and some South America countries.
Oceania market such as Australia and New Zealand.
---
Input voltage:200-240VAC 50/60Hz
Networking : Wifi
1 gangs
Power rating : 600W
Standby power : 0.5W
Size : 86 * 86 * 42mm(Europe)
Life : 100000 times
Housing Color:White
Operation Temperature:-20℃~+50℃
Fire-protection rating : 94-V0
---
---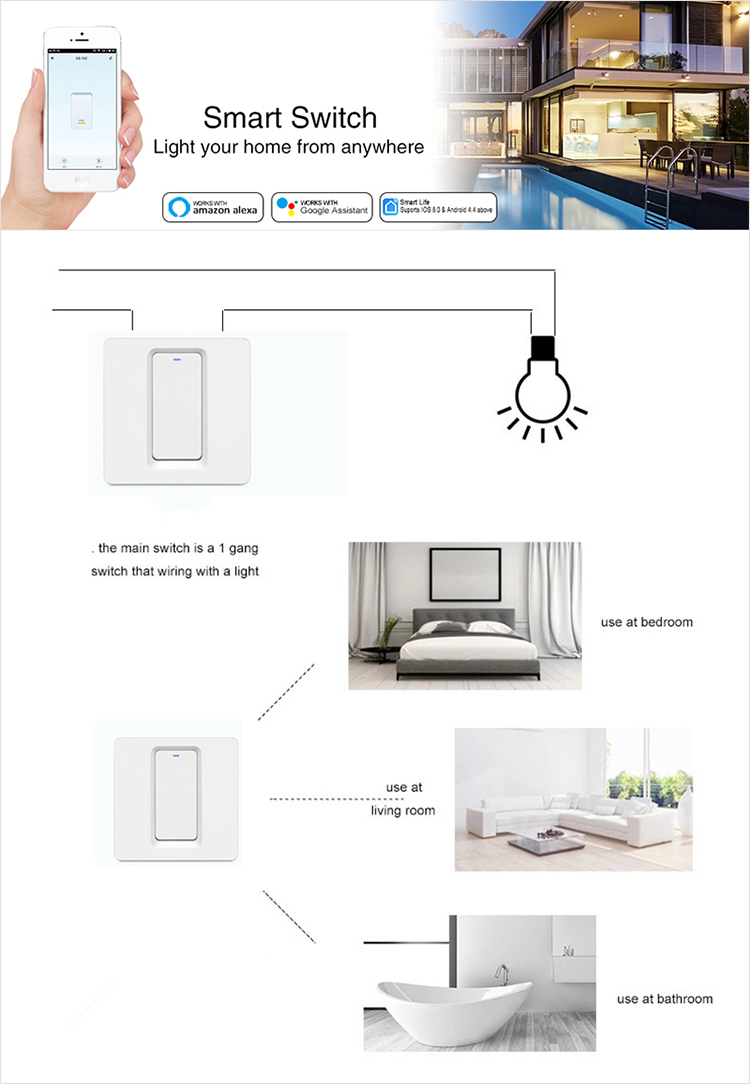 ---
---